The Independent Verification Experience of WVI
If we can streamline quality assurance mechanisms across the sector, then we believe that CHS is the one.
January 2022
World Vision International (WVI) has an active presence in nearly 100 countries and 35,000 staff to help the most vulnerable children overcome poverty. Over the decades its work has impacted the lives of more than 200 million at-risk kids.
Following their recent CHS Independent Verification in July 2021, we have interviewed Justin Byworth, Global Humanitarian Director, to have an insight into the impact of the CHS on WVI's field activities.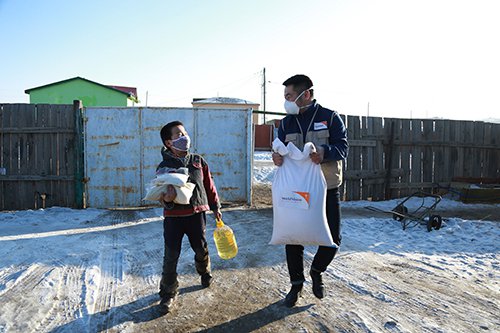 Hi Justin, could you tell us a little bit about yourself and your role at World Vision International (WVI)?
Sure, with pleasure. As Global Humanitarian Director I lead WVI's humanitarian work across the international World Vision family, or partnership, as we call it. My team supports our humanitarian work around the world in the many countries hit by humanitarian crises, conflicts, and disasters.
Why did WVI enter the Independent Verification (IV) process back in 2020? Did WVI's previous undertaking a validated CHS self-assessment play a part in this decision?
At WVI we've been strong and actively-involved supporters of the CHS ever since it was conceived, and have been conducting CHS self-assessments for several years. We are a large organisation: last year we reached 30 million disaster-affected people with assistance. Considering our scale, this meant a larger sample for the Independent Verification than many other NGOs and of course a lot of work. That is why the decision to go ahead with Independent Verification took time. We were waiting for the right moment, so that we had the right capacity and resources for the verification process. We have always wanted to put affected people at the centre, enforcing the 9 Commitments of the Standard. Also, donors are increasingly demanding that these quality assurance mechanisms be in place, and if we can streamline them across the sector, then we believe that CHS is the one. It was helpful to undergo an independent verification process in order not to, so to speak, mark our own homework.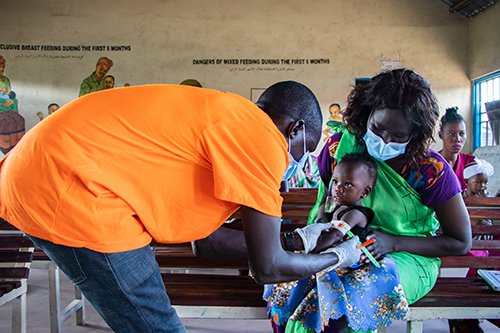 What surprised you positively during the audit? What negatively?
Overall, the virtual audit was a good and encouraging experience for us. The report demonstrated that our commitment to the CHS in our responses, policies and procedures had been recognised. It was also a learning experience that highlighted the areas that we need to improve and strengthen, and we wanted that. We approached it with an open mind, so that we could improve our accountability to affected populations, and the process succeeded at that. The quality of the auditors was excellent both from a professional and human point of view. Their behaviour was respectful and constructive, their commitment and understanding really encouraging for us. When they held the mirror to us, we could recognise the reflection. It resonated with us. At the same time, there were some aspects and formalities of the verification process that perhaps could also be further improved.
What did you learn from the IV? What changes is WVI putting in place as a result?
The useful learning that we are putting into practice is, for example, that we need to do more to include the most vulnerable, such as people living with disabilities, in all aspects of our work. Additionally, not all community members were aware of the expected standards of behaviour of our staff. So, we have developed an improvement plan focusing on accountability to affected communities, localisation, environment, and inclusion of vulnerable people.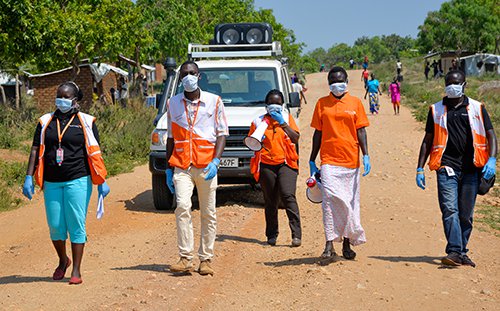 How did your network, such as donors and partners, react to the Independent Verification? And what has been the impact on crisis-affected communities?
Well, in terms of feedback, I think it's yet too soon to tell - we've only just completed the process. However, we expect that donors and partners will be interested in the independent verification process we went through. Feel free to ask me again in one year!
Would you advise other organisations to get independently verified, and why?
Certainly. I think my advice to other organisations would be, once they're ready to resource the process for being assessed against the CHS, to do it, because it's good to be held to account by an independent body, and learn from this experience.
About WVI
World Vision's focus is on helping the most vulnerable children overcome poverty so they can experience fullness of life.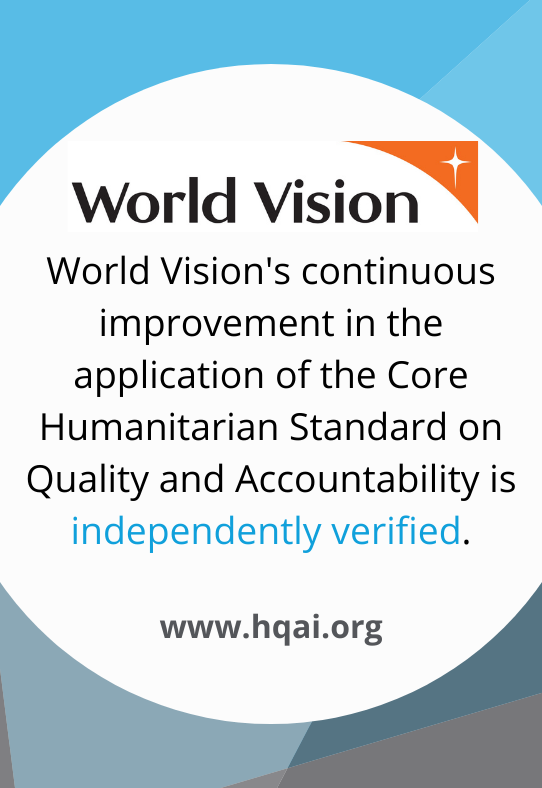 World Vision International
Explore WVI's profile and latest audit report
Independently verified since 2021 /
international
Read more