ECOSOC
Special consultative status with ECOSOC
October 2021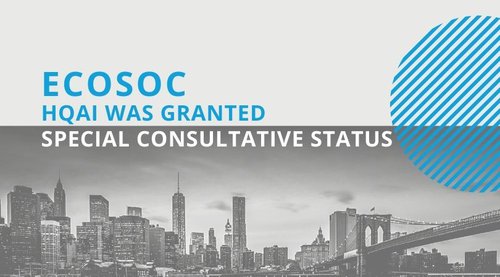 In July 2021 HQAI was granted special consultative status with ECOSOC. We are extremely pleased, and will honour the opportunities this status offers.
The Economic and Social Council (ECOSOC) is one of the six principal organs of the United Nations (UN) System. It consists of 54 members of the UN elected by the General Assembly.
ECOSOC coordinates economic, social, and related work for the fourteen UN specialised agencies and commissions. ECOSOC serves as the central forum, and formulates policy recommendations for:
promoting higher standards of living, full employment, and economic and social progress;
identifying solutions to international economic, social and health problems;
facilitating international cultural and educations cooperation;
encouraging universal respect for human rights and fundamental freedoms.
Annual sessions cover various areas, including the humanitarian segment, the ministerial review focusing on global issues, as well as the development coordination forum.
More than 5,500 NGOs currently enjoy active consultative status with ECOSOC. NGOs with consultative status are not considered part of the United Nations system.
---
HQAI, organisation in special consultative status with ECOSOC since 2021.
---
Other news