Why accreditation matters: How ISO standard improves the quality of certification bodies
Why accreditation matters: How ISO standard improves the quality of certification bodies
November 2023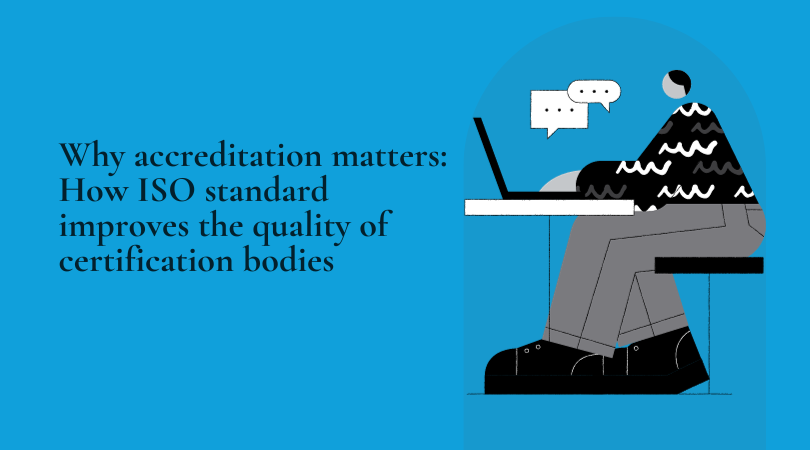 Credibility and trust are crucial in the field of service certification. Certification bodies, such as HQAI, must undergo strict evaluation known as accreditation to achieve this. Accreditation involves the certification of the certifying body by a government agency or official accreditation body. It is a key requirement for certification bodies and improves the quality of their services.
At HQAI, we believe that independent audits are critical to enhancing and demonstrating our quality and competence. We voluntarily undergo external evaluation against the ISO/IEC 17065 standard, ensuring our accountability to various stakeholders, including people affected by crises, audited organisations, and donors. Accreditation reinforces our credibility, attesting to our competence, impartiality, consistency, and adherence to international standards. This, in turn, strengthens the value of CHS certificates issued by HQAI.
HQAI has been accredited against ISO 17065 for its CHS certification scheme since 2018. This standard governs HQAI's processes, and our accreditation against it reflects our adherence to international norms and best practices.
Benefits of Accreditation for Certification Bodies
Credibility and Trust: Accreditation enhances the credibility and trustworthiness of certification bodies. It signals stakeholders that an independent body has assessed the certification body and that it meets international standards for performing audits.
International Recognition: Accreditation evaluates the competence and expertise of certification bodies in their specific domains, assuring stakeholders of their ability to conduct accurate assessments. Accreditation bodies, often signatories to mutual recognition agreements, ensure that certifications from accredited bodies are widely accepted across national borders, reinforcing their credibility.
Impartiality and Independence: Accreditation ensures that certification bodies operate impartially and independently. This means they are free from conflicts of interest and can render fair and unbiased assessments. For example, a typical accreditation audit checks that we have systems in place to ensure any certification decision is free from external pressures and based on objective facts.
Consistency and Reliability: Accreditation promotes consistency and reliability in the certification process. It ensures that the certification decisions are based on objective and transparent criteria and that auditors follow the same methodology in all audits. This is why the accreditation audit regularly observes audits and pays particular attention to how HQAI trains the auditors and monitors their performance.
Continual Improvement: Accreditation fosters a culture of constant improvement within certification bodies. The reports provide feedback that supports certification bodies in identifying and addressing areas for improvement.
How does Accreditation Work?
To become accredited, a certification body must undergo a rigorous evaluation process by an accredited body. The evaluation process typically involves the following steps:
Documentation review: The accredited body reviews the certification body's documentation to ensure that it meets the requirements of ISO 17065. For example, it checks the records of registered auditors and performance reviews and monitors their work, the auditing processes, the complaints and appeals procedures, amongst many other aspects.
On-site assessment: The accredited body assesses the certification body's operations. This assessment includes interviews with personnel and external stakeholders, direct observation of audits, and the review of audit records.
Decision: The accredited body decides whether to grant accreditation to the certification body if it complies with all the criteria of the ISO standard.