How HQAI and CARE Members have found efficiencies in completing DG ECHO's ex-ante assessments
Breaking News
October 2023
HQAI completed 4 ex-ante assessments for DG ECHO's Programmatic Partnerships for 4 CARE Confederation members, saving time and money.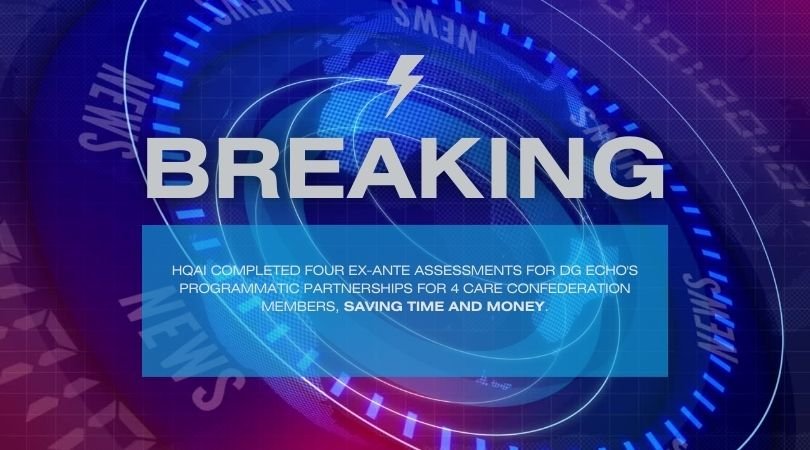 Efficiency and Accountability: How HQAI and CARE Members have found efficiencies in completing DG ECHO's ex-ante assessments
In an innovative move, HQAI has collaborated with four CARE Confederation members (CARE Denmark, CARE Germany, CARE Netherlands, and CARE Norway) to carry out DG ECHO Programmatic Partnership (PP) ex-ante assessments using the results of CARE International's latest CHS audit.
HQAI and CARE have successfully demonstrated a streamlined and cost-effective approach. By leveraging the results of CARE International's latest CHS audit, HQAI completed ex-ante assessments for four European CARE Members pre-qualifying for DG ECHO's PP funding. This highly time and cost-efficient approach demonstrates the added value of a CHS audit to HQAI partners and sets a precedent for future collaborations with audited partners.
---
The Approach: Building Efficient Processes
HQAI undertook a meticulous and systematic two-stage process to inform the ex-assessments for each of the four individual CARE members.
HQAI reviewed the CHS audit findings of CARE International in the first stage, mapping the information against DG ECHO requirements, identifying gaps and conducting risk assessments. The aim was to see how far information already gathered met the requirements of the ex-ante assessment. The findings were gathered and then communicated to individual CARE members and plans developed to complete the assessments.
In the second stage, in-depth audit activities, including document reviews and staff interviews, were conducted, both verifying information at the level of individual CARE members and addressing requirements not covered by the CHS audit. At the end of the process, HQAI delivered duly filled ECHO ex-ante PP assessments for each of the four CARE members.
Robustness of the Audits and Efficiency Gains
HQAI's risk-oriented audit methodology underpinned the robustness of the approach. By directly using verified information from CARE International CHS audit to meet the ex-ante assessment requirements and using their knowledge of CARE's existing systems to tailor additional audit activities, HQAI auditors were able to complete the assessments in far less time than an external auditor might take. The auditors refined this approach over the course of completing the four assessment. This continuous improvement approach further enhanced efficiency and provided valuable insights.
Benefits and Future Implications
This achievement highlights the power of collaboration and innovation in the face of complex challenges, setting a blueprint for one way of streamlining approaches to completing due diligence processes in the sector.
This collaborative approach of HQAI, CARE International and the four CARE members saved valuable time and resources. By extrapolating evidence and findings from an existing audit and conducting targeted additional audit activity, HQAI ensured a thorough assessment while minimising expenses for CARE Confederation members. The success of this partnership demonstrates how re-purposing CHS audits and knowledge enhances efficiency, accountability, and transparency.