Putting people at the centre
Putting people at the centre
October 2022
2022 has been a year of change at HQAI. A new Executive Director has arrived in June, Joost Mönks. But what are his plans for HQAI's future? Let's find out with our senior auditor Andrew Nzimbi, based in Kenya, who took the chance to get to know him better in person (...or almost) through this interview.
Andrew Nzimbi (AN): It's a pleasure to meet you, Joost! Could you tell me a little bit about your background?
Joost Mönks (JM): Hi Andrew, it's a pleasure for me as well. You are one of our experienced auditors, and I'll be more than happy to answer your question as the new and still fresh Executive Director of this amazing family that is HQAI. Let me give you just a few elements beyond my official CV.
I came to Geneva as a 19-years-old student from the Netherlands willing to study international relations and development. I've been working in that sector ever since, both in my professional and personal life, also doing some volunteer work, particularly in India.
I've worked for 25 years in development cooperation, quality assurance, organisational performance, and auditing. I was fortunate enough to work with such organisations as UNESCO, ICRC here in Geneva, Ernst&Young, as well as for several academic and not-for-profit NGOs.
My professional experience has allowed me to develop substantive or content knowledge as well as to hold management positions. Before joining HQAI, I was the Executive Director of a think-and-do tank called NORRAG, where we worked on international education policies, in a time of strong growth but also strategic reorientation. One of my key insights is that it is always necessary to contextualise, because there's no one-size-fits-all solution, and to develop local ownership: partners need to take ownership of the project and assess what benefits them. As far as my experience with quality assurance and certification is concerned, I started working in this field at the beginning of the 2000s, when I was involved in setting up a quality assurance certification scheme for development studies. Back then I started to realise how important it is to implement a learning path in addition to the technical dimension of certification. It is really all about learning and improving! When HQAI certifies, we offer the organisation a mirror to see where they currently stand, and the possible improvements: it is a deep learning process indeed.
AN: Thanks, that is an impressive experience! Let me ask you a follow up question: why choose HQAI?
JM: I feel very glad to work with the great team I have discovered here, from the Secretariat staff to auditors. I have known the HQAI project from its very inception, ever since I met Jacques Forster 20 years ago. Together, we started this work on quality assurance and education. So, I was immediately very interested when this position opened, and very motivated by this combination of management and substance. HQAI as such is, in my view, a fascinating organisation as it combines the world of ISO standards with that of development and humanitarian aid. In that sense, it is rather unique, and it reflects the unique character of the CHS, the only standard in the humanitarian and development field that is measurable and comes with verification options that include certification. Beyond that, the objective of putting affected populations at the centre of aid is what inspired me, and what should always be at the heart of our work.
AN: Yes, putting affected populations at the centre of the programme, that's quite it indeed… And, in your position, what are HQAI's future objectives and initiatives in the field? What's your view on them?
JM: It is still early for me to say, but, when I arrived, I found a solid house at HQAI. And, most importantly, there was already a developed plan for the extension of that house.
Right now, I am working on a strategic plan with HQAI's Board of Directors. Localisation, for example, has always been a key priority on HQAI's agenda, with the development of what was previously called Subsidy Fund to support organisations wanting to access HQAI's services, but for which the cost of an audit could be a barrier.
The fund's scope has since then been expanded, and currently the renamed Facilitation Fund still maintains the subsidy dimension, but, in addition, it supports the development of local audit capacity. We're working hard on the various projects linked to that agenda, and this will lead, I hope, to a more decentralised structure going beyond Geneva to reach the Global South and set up regional hubs.
The ongoing climate crisis and Covid made very clear how important it is to innovate. At HQAI we are already implementing hybrid audits, but we will work on continuing improving in that area. That includes innovating our methodologies and the way we gather and manage data.
We are already improving our service offering and knowledge transfer to partners. An extended version of the HQAI CHS audits is already being used to build bridges with donors' due diligence requirements, as it happened with the ECHO scheme, for instance. This will facilitate access to direct financing of local organisations, reducing duplication, and allowing for the creation of economies of scale to reach more partners. In addition, this process will allow for better information sharing, knowledge transfer and capacity building when operating in local realities.
These projects are all extremely motivating, and I feel privileged to work with the amazing HQAI team to fulfil these goals. I see a bright future for HQAI, and we'll work with our partners, first and foremost the CHS Alliance, to continuously innovate and engage ourselves in improving the quality of aid and accountability towards affected populations.
AN: One last question before you go, Joost. Would you share a parting shot with us?
JM: Aw, that's a tricky one, but thanks for asking it, Andrew! Well, I'll say: "We help organisations make aid better, recognising who they are and where they can go."
---
Other topics of interest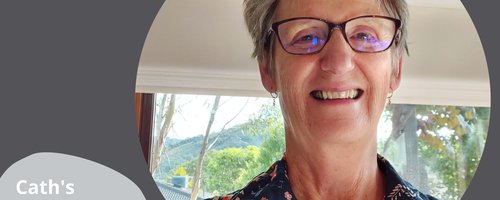 Cath's auditor testimonial
Cath Blunt shares insight into her work as an HQAI auditor.